Cedarstone Arts Foundation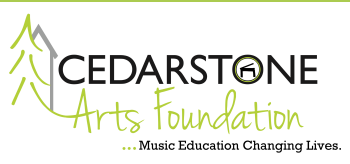 Who We Are
Cedarstone Arts Foundation is 501(c)3 registered nonprofit: we are a collective of music industry professionals, local school teachers and administration, community leaders, business professionals, and music education activists all dedicated to one common goal: Provide high caliber music education to change lives and assist every qualified student in maximizing their unique musical potential.
What We Do
Why We Do This
Give now and help music education changing lives.
Personal donations through PayPal. The link is below.
Corporate Donations through your employer that allows you to choose a charity of your choice.
Volunteer your time. Contact us at info@cedarstonearts.org.
Make all your amazon.com purchases as normal … but login through AmazonSmile instead.
Select the Cedarstone Arts Foundation, Inc. as your charity of choice and help funnel support to this great effort.
Get Started Today With Cedarstone